Pitcher Training Tools
As a fastpitch softball pitching instructor, I am constantly looking for the best training tools available to help my pitchers perform better. I train with them myself. If they work, I use them with my students and I sell them. If they don't work, I toss them in the trash and they don't show up here. Many training tools are just 'gadgets' that don't really do anything except separate you and your hard-earned money. You can be confident that the tools listed here WORK!
---
---
More strikeouts! You cannot avoid the fact that spin=movement. More spin=more movement. The only way you are going to produce more spin is to build your forearm and finger muscles so you can snap and release the ball harder/faster/quicker. Here's the tool that will build the necessary strength ** in the shape of the release **. Speed is sexy, but if you can't move the ball around, you are just going to get hit harder as you get older.
The TIGHTSPIN Trainer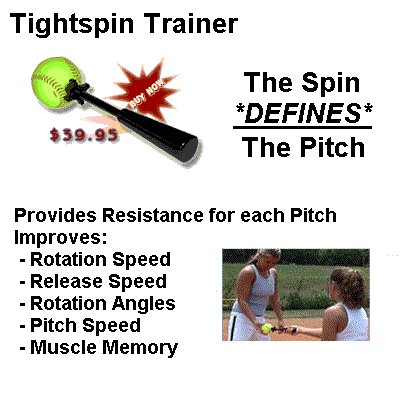 This tool is what we have been waiting for! A tool to specifically strengthen the muscles in the forearm and fingers to produce a stronger release. A stronger release equates to more speed, but more importantly, it generates a faster rotation on the ball.
A higher rate of spin = more movement.
More movement = less hits.
As a pitching instructor, I am convinced that movement is the key to successful pitching. This tool provides resistance in the shape of the release which strengthens the muscles for the specific task. And not only that, it reinforces the necessary muscle memory. This is the first tool that I can honestly say will increase your number of strikeouts. If you pitch, the TIGHTSPIN Trainer will help your movment pitches more than any other tool.
The TIGHTSPIN Trainer - $39.95
CLICK HERE to learn more or purchase this or other Amazing and Productive Pitching Tools
---
The Perfect Circle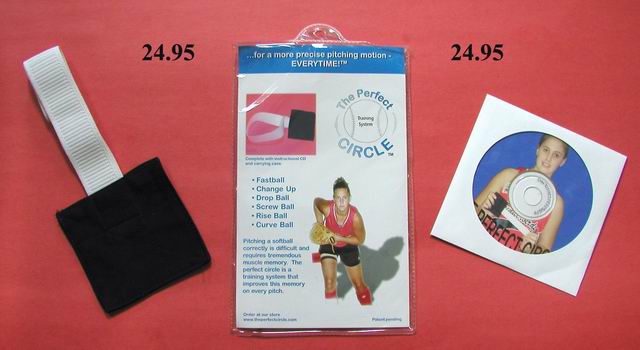 This tool is fantastic! As a pitching instructor, I am constantly reminding the pitchers to keep their arm tight to their body. This tool is a constant reminder to keep that release point tight to the thigh. It provides the necessary feedback to reinforce the proper motion and to help keep that arm on the power line. I swear by this tool. It comes with a DVD to help you understand how to use the product. If you pitch, you need this!
The Perfect Circle Training Tool - $24.95
CLICK HERE to learn more or purchase this or other Amazing and Productive Pitching Tools
---
The Softball Spin Right Spinner w/ Instructional DVD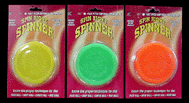 The Softball Spinner is a training aid designed to teach the spins and rotation directions of the softball. Endorsed by pitching guru's Ernie Parker and Mona Stevens among others, the Softball Spinner is a great pitching aid whether you are working on the basics of releasing the softball or the advanced spins of the rise, curve, or drop. Used at many of the top collegiate programs throughout the country, the Softball Spinner provides instant feedback to pitchers, catchers, and coaches. Although the Softball Spinner was originally designed for pitchers, many coaches use it to teach correct fundamentals of overhand throwing as well. An Instructional Booklet and DVD is included in the package.
Spin Right Softball Spinner w/Instructional DVD - $24.95
CLICK HERE to learn more or purchase this or other Amazing and Productive Pitching Tools
---
The Glove Radar - $79.95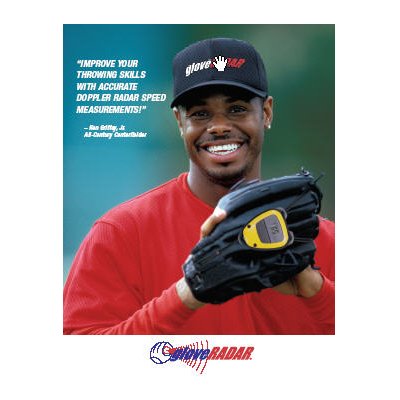 ENDORSED BY KEN GRIFFEY JR. !!
The Glove Radar® is a small, inexpensive microwave Doppler radar velocity sensor which is attached to a baseball or softball glove to measure the speed of the ball just before it is caught. I've personally used one for 5+ years and I've experienced -zero- mishaps. I was worried that the constant pounding from my collegiate pitchers would disturb the electronic components...nope...after all this time, it still works.
Q: WHAT IS THE PURPOSE OF THE GLOVE RADAR®? A: It will assist in developing baseball and softball players' throwing capabilities by providing a measure of velocity improvement which results from using proper throwing techniques. The Glove Radar® can aid any player--infielders and outfielders, as well as pitchers and catchers, throwing from any distance. This miniature device is worn on the glove of the receiver of the ball during practice, training, tossing and warm-up sessions. It not only is a great training tool but everyone has fun using it.
Q:HOW DOES THE GLOVE RADAR® WORK? A:The Glove Radar® is truly a microwave Doppler radar, not an impact sensor; nor is it a timer which depends upon a precise throwing distance for accuracy. Attached to the back of a ball glove, it measures the speed of the approaching ball a few feet before it is caught. It "sees" through the ball glove, which is essentially transparent to the microwave energy, even though the transmission level is extremely low. Operating with power from a single-cell three volt lithium battery, the Glove Radar® transmission level is much less than that of most conventional "wireless" electronics control and communications products, such as cellular 'phones.
Q:DON'T OTHER DEVICES MEASURE BALL SPEED? A:Radar "speed guns" used for sports applications are excellent devices but cost too much, and are therefore not generally affordable for individual players, coaches and parents. However, the Glove Radar® is an inexpensive and affordable radar velocity sensor that fills this void.
Q:HOW ACCURATE IS THE GLOVE RADAR®? A:The Glove Radar® typically measures ball speed within plus or minus one mile per hour of popular "radar speed guns" adjacently located and measuring velocity over a comparable flight path. The most important consideration in using any velocity sensor is to be consistent in its use so that comparative measurements are relative to those preceding and following.
Glove Radar - $79.95
CLICK HERE to learn more or purchase this or other Amazing and Productive Pitching Tools
---
If you have questions or are interested in purchasing a product, just send me an email or give me a call.

E-Mail: ron@windpitch.com
(512)965-6500


Wind-Pitch, the Wind-Pitch logos and all other Wind-Pitch products or service names are registered trademarks of Wind-Pitch or Extra Innings, LLC. All other trademarks belong to their respective owners.
© Copyright 2000-2006 Wind-Pitch, All rights reserved

softball, pitching, windmill, fastpitch, fast pitch, instruction, instructor, teacher, coach, clinics, clinic, class, classes, windpitch, wind-pitch, fielding, batting, books,